Frequently Asked Questions
---
What is your delivery area?
We offer free delivery and pick-up within Wichita and the Goddard area. Delivery charges exist for Andover, Augusta, Valley Center, Derby, and Bel Aire. Call for delivery outside of these locations. Machines may also be picked up at our location.
---
What do I supply?
Make sure you have the required amount of alcohol at the time of delivery to ensure proper set up and a trouble free experience (customer supplies the alcohol).
---
What type of electrical outlet do I need?
Our machines require a minimum 15-20 amp dedicated circuit. The machines need to be near an electrical outlet. No extension cords unless provided by Alotta Coladas.
---
Does Alotta Coladas supply the liquor?
No. We do not supply any liquor. Our mixes are concentrates that contain no alcohol. Most mixes call for a 1.75 Liter bottle of liquor except for Peach Bellini which can be made with champagne!
---
How much are the additional mixes?
Additional mixes are $20 each.
---
Can I use my own Margarita Mix?
No. Our mix is made exlusively for frozen drink machines. Other mixes will cause damage to the machines.
---
How many drinks does one mix make?
Each mix makes about 4 gallons of product (60 - 65 nine ounce drinks). Our two most popular mixes - Strawberry and Lime Margarita - make about 4 gallons (60-65 nine once drinks). Other mixes vary slightly.
---
Can I set the machine on a table?
No, our machines are delivered on a cart and must remain on it as shown in this picture: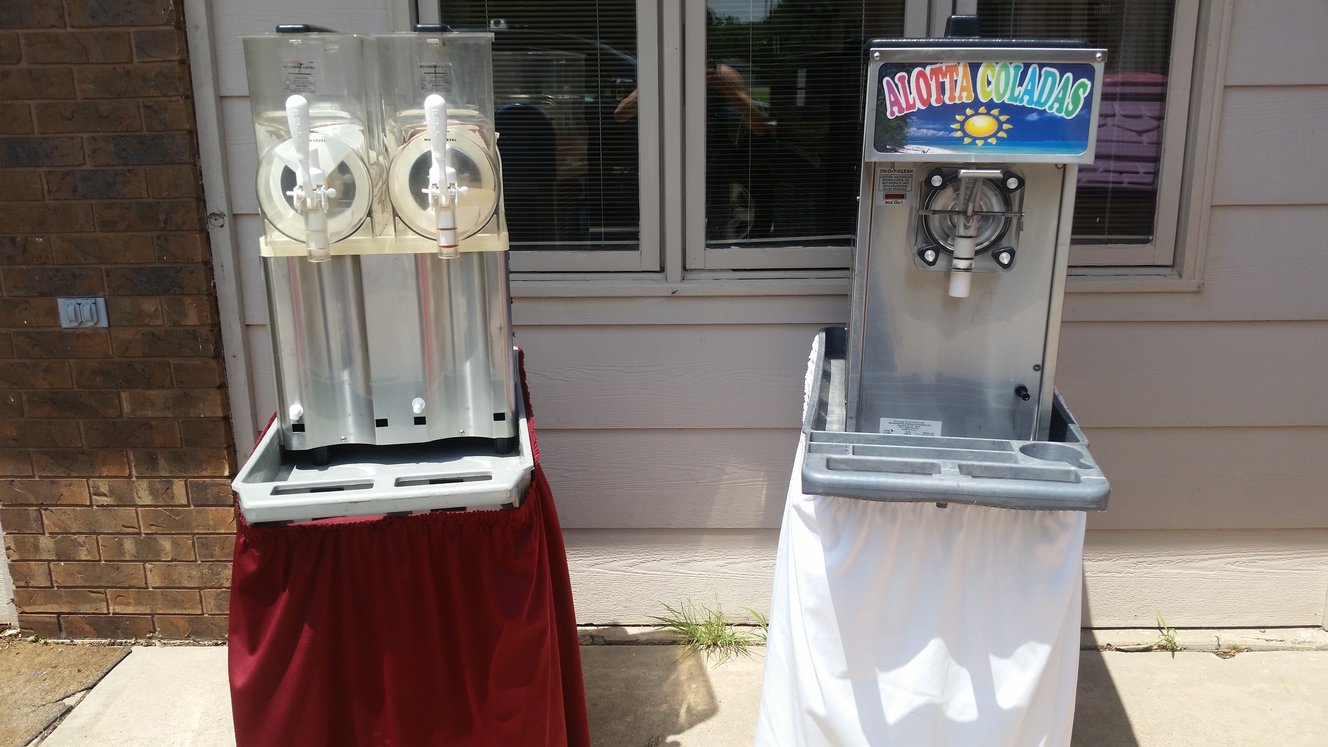 ---
What size cups do you supply?
We supply 9 ounce cups. Large cups lead to waste. Guests let the drink melt, then throw it away to get another. Also, large cups can cause the machine not to keep up with the demand of the party if you have many guests.
---
What else do you need to know?
We can normally deliver our double machines just about anywhere at your house, around backyards and parties, garages, etc. But because of the weight of our single machines, going up or down to basements is very difficult and dangerous! If there are stairs, 2 extra people will be needed to lift the machine. Please discuss this with us when you reserve your machines!